Scroll down or click on the links below to hyper jump to the section you are interested in.

Company
UBM DeusM is an integrated marketing services company owned by United Business Media (www.UBM.com) targeting the fastest growing segment of the online publishing industry: business social media. The company is led by Managing Director Stephen Saunders, Min's Marketer of the Year 2010. He and the other UBM DeusM principals have built and delivered more than 40 successful sites and online communities over the last dozen years.

UBM DeusM's service is based on a unique platform, called Community in a Box (CiaB), which employs a structured system of proven B2B Web publishing best-practices, combined with a breakthrough integrated multimedia publishing platform ("n-Server") to enable marketers to quickly and profitably set up specialized communities for their target customers (for more on CiaB click here).

UBM DeusM has also created a modified version of CiaB called Community Activation Platform (CAP), which utilizes the same n-Server technology to provide exclusively sponsored online communities (for more on CAP click here).

UBM DeusM also takes advantage of existing social networks like Facebook, Twitter, and LinkedIn to amplify and propel client content and messaging across the Internet using our Internet Influence Program (for more on IIP click here).

CiaB and CAP have already been used to build 20 multi-award-winning communities, such as Internet Evolution (www.internetevolution.com), which is sponsored by IBM; Enterprise Efficiency (www.enterpriseefficiency.com), sponsored by Dell; and EBN (www.ebnonline.com), which has multiple sponsors.

By codifying everything we know about how to build thriving business communities into a proven set of rules, and uniting it with a unique, custom-built publishing platform, UBM DeusM is taking the element of chance out of social media, enabling customers to buy community as a service - knowing that it will work every time.

UBM DeusM is a startup, but not a speculative one. CiaB communities play at the sweet spot of our market - delivering huge levels of engagement with a highly qualified audience, while allowing the advertiser to own the message. The underlying rationale for our business derives from demonstrable customer demand meeting proven technology that itself has been forged on the anvil of two of the most successful B2B online communities of all time: Light Reading and Internet Evolution.

By supporting UBM DeusM, our customers are availing themselves of the opportunity to clearly define a new publishing market, and to use it to dominate their competitors for the foreseeable future.

Our Name
DeusM is an abbreviation of Deus Ex Machina, a term derived from classical drama that describes the moment that a god is introduced into a play to resolve the entanglements of the plot. The analogy should be obvious.

Deus

Stephen Saunders, Managing Director
DeusM communities are based on Saunders' vision for a structured system of community publishing, one that creates unprecedented engagement among highly qualified business users. Based on the success of the first dozen UBM DeusM communities, the UBM Tech division in 2013 made the decision to move its online business to the UBM DeusM community platform – including 20-year-old flagship brands such as Information Week and EE Times.

Saunders' next mission for DeusM is the development of UBM's Integrated Community Business Model (ICBM), a publishing system designed to take advantage of, and build upon, UBM's competitive strengths as a leading provider of live events around the globe. The model is designed to extend the ability of UBM's events to generate revenue 365 days of the year by contextually integrating content from community and event sites and directories, to drive bigger audiences to all three platforms and thereby create additional value for customers. In turn, these amplified audiences will allow business leaders to grow both revenues and profits through higher directory fees and online sponsorship. The ICBM concept is currently being discussed with a broad group of business leaders across UBM and is earmarked to be piloted in the second half of 2013 and early 2014.

UBM DeusM is Saunders' fifth successful startup. In 2008, he founded Internet Evolution (www.internetevolution.com), a ground-breaking, award-winning, global, online community dedicated to investigating the future of the Internet, now in its fifth year.

Prior to Internet Evolution, Saunders was the founder and CEO of Light Reading (www.lightreading.com), Heavy Reading (www.heavyreading.com), and Dark Reading (www.darkreading.com), a triptych of online startups covering telecommunications news, telecommunications research, and security news, respectively, which were sold to UBM in 2005 for $33 million. All three publications continue to thrive in UBM's hands.

Saunders has been recognized with many awards for his work, including six Jesse H. Neal Editorial Achievement Awards from The American Business Press and three awards from the Computer Press Association.

In March 2008, Saunders was inducted into Min's Digital Media Hall of Fame.

In April 2009, he was named to the No. 2 spot on Folio magazine's Folio 40 ranking of magazine industry influencers and innovators, one ahead of President Barack Obama. The magazine subsequently revised the list following a public outcry, demoting Saunders to the No. 3 spot.

He was named Min's Marketer of the Year in September 2010. No outcry ensued.

UBM DeusM's communities have won a slew of other awards – more than 90 in the last three years. The full list can be found here: www.deusm.com/awards.asp.

Steve is the author of three books, The Data Communications Gigabit Ethernet Handbook (McGraw-Hill, 1998), The McGraw-Hill High-Speed LANs Handbook (McGraw-Hill, 1995), and The True Story of King Arthur (48hourbooks, 2009). Gripping reads, all. Especially the last.

Saunders started his career in publishing in 1983 working as a van boy (literally, a boy on a van), delivering the BBC's Radio Times program guide.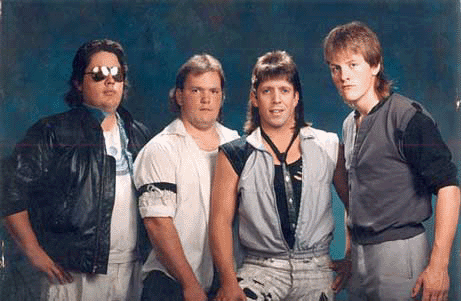 Saunders, second from right. Simpler, happier times.

IT Crew

Chris Williams, Vice President of Technology
Chris Williams is Vice President of Technology for UBM DeusM and the primary architect of UBM DeusM's n-Server platform. Previously the Web Development Manager for the Light Reading Communications Network, a part of UBM TechWeb, he has spent the better part of 13 years imagining, developing, testing, developing, planning, imagining, managing, testing, testing, developing, testing, developing, managing, imagining, developing, testing, and enjoying Web applications. A graduate of the University of North Carolina at Chapel Hill (so you know not to bother him during March), Chris can bake a cake with an SQL query, single-handedly stress-test your expensive user-management solution, identify the flaws in your five-year plan, debate the ins-and-outs of British politics, and give you a haircut with VBScript (huh? yeah!). A veteran of the ever-loving UltraPlayer and the always-scooping Light Reading, Chris is surly, remembers almost everything, and resides with his wife and son (and three cats and two dogs) in Durham, N.C.

Daniel Yuschick, Lead Developer
Daniel graduated from Kaplan University with a Bachelor's degree in Computer Crime. However, with a wealth of experience in web development and design, he became yet another Yankee transplant to Raleigh, North Carolina in 2009 to pursue his longstanding interest in the creative and legal side of the web. Now, his expanding role within DeusM includes site development and maintenance, system features and enhancements, production tasks, and training. In the evenings, you can find him playing basketball in area rec leagues, playing video games, or hammering out some freelance work. Of course, this is only when the Oklahoma City Thunder aren't on TV.

Marc Elmo, Web Developer
Marc graduated from N.C. State University with a degree in architecture, dreaming of a career creating structures that would delight the soul and enrich the landscape. While working on a cross-section of an exterior wall for yet another soulless, speculative commercial office building, he realized that the dream was probably not any more than that. Fascinated with the relative rapidity and ease with which a simple Website could be constructed, he set off to see if there was something better suited to his temperament. Flash ahead 15 years and after stints in Web design, graphic design, computer hardware, customer service, and marketing, he finds himself happily implementing cutting-edge Web engagement services for DeusM. An avid reader and movie enthusiast, Marc and his wife Julie expect their first child in September 2012, further crowding a household already occupied by two dogs and three cats, and they couldn't be more delighted.

Bill Burns, Manager of Technical Research & Development
Inspired by video games, Bill was enraptured with programming, simply to avoid shoveling quarters into machines in the arcade. When Atari never called to give him his dream job, he moved into the mundane world of IT. That, however, led back to the world of programming as the Internet grew. After discovering the world of MP3s, he went to work for a company that tried to implement the Apple music model before Apple did. Since you've never heard of them, it should be evident that they did not succeed. At the end of that stint, Bill joined Light Reading as a Website engineer. He took the opportunity to join DeusM to indulge his passion of trying to figure out implementations of technology that no one else can (or really, that no one else wants to).

Eric McLaughlin, Technical Project Manager
Living proof that white men can dance, Eric made his film debut in 1984's Breakin' 2: Electric Boogaloo. Based on the true story of Eric and his breakdancing gang heroically saving their community recreation center from an evil developer's bulldozers, Breakin' 2 inspired millions to use breakdancing to solve persistent social ills and usher mankind into a new golden age. Then the 80s ended. Oh, well. After that, Eric joined Light Reading where he worked for over a decade managing the ad traffic department. Now with UBM DeusM, he manages development projects and is responsible for overseeing performance marketing and reporting activities, best-practices, and systems.

Michael Fahy, Senior Web Developer
Michael graduated from the University of Pittsburgh with a Bachelor's degree in computer science in 2005. After spending the first seven years of his professional career knee deep in a county government IT department learning web development and all things PC related, he joined the DeusM Team. His roles with DeusM include site building, site maintenance, site revisions, and anything else site related. He currently resides in the mountains of Southwestern Pennsylvania with his wife Darcel and their dog and two cats. When he's not doing freelance work he can be found enjoying the outdoors (when it's not snowing), doing anything related to sports, playing video games, and watching movies.

Accounting

Michael O'Hare, CPA, Business Manager
Michael has been with DeusM from the get-go... he also hates the term "get-go." Prior to DeusM he worked as the Controller for Light Reading, meticulously tracking every dollar in and out of the company. Prior to LR he worked with PricewaterhouseCoopers (PwC), where he wrestled with the mechanics of real estate accounting, and MetLife, helping to manage its asset portfolio. He graduated from Binghamton University with a BS in accountancy. Prior to becoming a world-renowned accountant, Michael held many different jobs as a carpenter, mason, UPS truck loader, gas station attendant, food deliveryman, cook, dishwasher, and landscaper. He has lived in New York City for the past 16 years. He is a devout foodie, loves to cook, see live music, and is planning on getting a dog in the near future. If you would like to buy him a gift -- he is very fond of Jameson and the latest in electronic gizmos, and his shirt size is large.

Winnie Ou Yang, Accounting Associate
Winnie graduated from SUNY New Paltz with a BS in mathematics and landed her first job at Chartis Insurance prior to joining DeusM. She works closely with the editors, helping their freelancers stay happy, and will be assisting with budgeting and forecasting. She commutes from Long Island and has a collection of all her LIRR monthly tickets. In her spare time, she can be found at the gym or wandering the streets for the next restaurant to try. She enjoys hiking (that is, not getting lost for six hours) and plans on getting better at snowboarding in the future.

Marketing Team

Lauren Burke, Community Specialist
Lauren assists with tracking and reporting on DeusM's communities and their social media sites. She also helps with the monthly reporting on the communities as well as general administrative work. Lauren graduated from Loyola University Maryland where she majored in PR and Advertising. She enjoys reading and watching Law and Order: SVU marathons.

Carly Cohen, Community Coordinator
Carly assists with social media campaigns, monthly reporting, and the production of sales materials and press releases. She graduated from Rutgers University where she majored in communications and minored in psychology. Carly was also a member of Zeta Tau Alpha sorority where she participated in fundraising activities for breast cancer research and awareness. In her free time, she enjoys traveling (most recently to Italy) and cooking.

Projects Team

Julie Muroff, Vice President of Operations
As Vice President of Operations, Julie oversees the management of all campaigns, community launches, and executions running on the DeusM platform, working with both internal and external clients of the company. Prior to DeusM she was Senior Events Manager for the Light Reading Communications Network. Julie attended The George Washington University and received her Bachelor's degree in International Business with a minor in Spanish. She has studied abroad in both Barcelona and Florence, where she learned to make a mean Bolognese. In her free time Julie can usually be found at New York Sports Club. She also enjoys cooking (she is always looking for next year's cookie competition winner – ideas welcome), Sunday brunches with friends, and getting lost in the streets of New York. She also has a low tolerance for umbrellas and pets in strollers.

Kelly Iacovacci, Project Manager
Kelly hails from Connecticut. Recently moved to NYC, she spends a lot of time exploring the different neighborhoods and enjoying all the unique experiences NYC has to offer. Living close to Central Park, she also enjoys running and has completed multiple half marathons. She was involved in pit bull rescue prior to moving to NYC, being a "foster mom" to many dogs before they were adopted into their forever homes. She hopes to get involved in dog rescue again at some point. Additionally, Kelly enjoys hiking and has climbed the highest mountain in New York State, Mt. Marcy, as well as the highest peak in the Northeast, Mt. Washington, and hopes to "bag" many more in the future. Prior to joining UBM DeusM she managed various online projects for a global weight loss brand. She brings expertise from multiple disciplines such as online and promotional marketing to her position at UBM DeusM as a Project Manager.

Meghan Cernera, Project Manager
Meg moved to the city this past year from Upstate New York, where she worked for a media and events company on digital and editorial projects. During this time, she pursued an MBA at Union College. Prior to studying marketing, she completed her BA in "Great Books" at a small liberal arts school in New Hampshire. Although she loved living in close proximity to the mountains and has an affinity with the Adirondacks, she now can't imagine leaving city life. Recently, she took Spanish classes in Guatemala and is continuing to study the language. Other interests include yoga, museums, and caffeine, especially in the form of chocolate and coffee.

Whitney Sunseri, Project Manager
Whitney is a California native and proud New York City transplant. Prior to moving to The Big Apple and assuming her role on the DeusM team she worked in public relations out of the tech capital of the world, the Silicon Valley. There she represented a wide range of clients throughout the technology industry, from telecom startups to large consumer brand names, helping them to launch products, media campaigns, and global community sites. Off the clock, Whitney can be found lending a hand on volunteer programs with the New York Junior League and New York Cares organizations or, depending on the season, watching her beloved San Francisco Giants and 49ers at Finnerty's pub in the East Village.

Art and Design

Ken Surabian, Creative Director
Ken has been with us since the beginning, designing every page and every logo that appears on the UBM DeusM family of Websites. He comes to us from TechWeb's Light Reading, where he served as Design Director since its inception. Ken has won more awards for magazine design than any other design director in the history of the universe. His mantlepiece bows under the weight of five Jesse H. Neal awards, two American Society of Business Press Editors awards, three Business Press Association awards, and two dozen other professional citations. (He has a really big mantlepiece.) His former clients include Fortune, Time, Newsweek, and Redback Networks.

Sasha Babarina, Senior Graphic Designer
Sasha attended the School of Visual Arts in New York, graduating in 2001 with a BFA in Graphic Design. With 10 years of industry experience, she's worked with a verity of clients – from small, local businesses to large corporations like TD Ameritrade Holding Corp., HESS Corp., and International Securities Exchange. She's a damn good designer and production goddess! She loves reading, cooking, spending time with family and friends, and, most importantly, fawning over the cutest puppy in the world. Because of her USSR upbringing, she's often accused of being too literal. Sasha has seen every episode of Star Trek: Next Generation.

Video

Daniel T. Allen, Video Producer
Daniel comes to DeusM with professional experience in television, radio, and the Web. Most recently, he helped produce video segments and edit online content for MetroFocus, a multi-platform news magazine produced by New York's PBS affiliate. Prior to that, he worked as associate producer for several television documentaries about life in and around New York City. As a freelance producer, Daniel has produced corporate videos, live music performances, and conference highlight reels for a variety of clients in the arts and non-profit sectors. He studied Media Studies and Mandarin Chinese as part of the Macaulay Honors College at CUNY Hunter and lives with his wife in Sheepshead Bay, Brooklyn.

Editorial

Scott Ferguson, Editorial Director
Scott Ferguson is the Editorial Director for DeusM and has oversight of the company's various IT-focused communities. He also edited SaaS in the Enterprise and Enterprise Conversation. Before joining UBM, Scott worked as the Editor in Chief of eWeek, where he oversaw the day-to-day operation of eWeek.com, as well as eWeek Magazine, until the print publication stopped in 2012 and eWeek converted into an all-digital publication with tablet and smartphone editions. He worked for more than six years at eWeek, starting as a staff writer covering microprocessors, PCs, servers, virtualization, and the channel. Scott also worked in a number of editorial positions, including as managing editor, while helping to shape the publication's core coverage of enterprise applications, mobility, and cloud computing. Before starting at eWeek in 2006, he worked for the Asbury Park Press of Neptune, N.J., where he covered law enforcement, the courts, and municipal government for four years. He also worked at the Herald News of Woodland Park, N.J., where he covered a number of different beats. Scott has degrees in journalism and history from William Paterson University.

Kevin Cramer, Content Ombudsman
Mr. Cramer's primary responsibility is maintaining – indeed, elevating – the quality of the prose that appears across the UBM DeusM family of Websites. He also casts his gimlet eye upon the message board traffic, ensuring that our Dear Readers neither veer too wildly off topic nor engage in slanderous, ad hominem attacks upon their fellows. His inter-office memos are a delight to behold. He was the Copy Chief of the Light Reading network of Websites from its foundation in 2000. Not a former Navy Seal, previous editorial stints included Women's Wear Daily and Data Communications magazine. Cramer won a highly coveted CMP Editorial Excellence award in 2006 for his hand in the creation of Larry, the Light Reading Attack Monkey. He lives in New York City with his angry cat and his bitter, bitter memories.

Lucy Butcher, Senior Copy Editor
Lucy Butcher moved to New York City in 2009, writing and editing for Show Business Weekly, ShopWiki, and Ajax Union before joining UBM DeusM's Copy Desk. She holds a Bachelor of Arts in Humanities and a Graduate Diploma in Writing, Editing, and Publishing. She likes cats, classical music, and New Yorker cartoons.

Paul Pearson, Copy Editor
Paul Pearson earned his Bachelor of Science in American Studies from the University of Notre Dame in 1993. After graduation, he worked for six years as a staff writer and copy editor at La Gaceta, a publication in Tampa, Fla., that bills itself as the nation's only trilingual newspaper. There, his duties ranged from editing stories to covering NHL hockey games to delivering papers. He later spent nine years at the copy desk of American Banker (including three years as its Copy Chief) and two years as a contributing editor to Investment Dealer's Digest. He lives in Westchester County, N.Y., and hosts a weekly trivia game on AOL.

Eryn Leavens, Copy Editor
Eryn Leavens attended the School of the Art Institute of Chicago before earning her Bachelor of Arts in Creative Writing and Studio Arts from Hampshire College in Amherst, Mass. She also completed UC Berkeley Extension's Professional Sequence in Editing. Eryn has edited for Chronicle Books, Counterpoint Press / Soft Skull Press, and Seal Press. She lives in Oakland, Calif., with her boyfriend and tuxedo cat. She works out of the San Francisco office, extending the Copy Desk Empire coast-to-coast.

Jessica DiGiacinto, Copy Editor
Jessica acquired her MFA from New York University in 2008 and her BA from Wheaton College in Norton, Mass., in 2006. Working as a new media editor for six years (most recently as an Associate Editor for PsychCentral.com) taught her to love grammar, even though her undergrad papers were perpetually marked with the words "comma splice!" in red ink. She's lived in many states but grew up in a small New Hampshire town with a 50/50 ratio of cows to humans. When she's not working, Jessica writes screenplays and viciously detailed to-do lists.

Advisory Board

Our Advisory Board comprises no one. It is UBM DeusM's policy that it does not take advice from anyone, no way, no how, no indeed.

Pieces of advice should be placed in the "Suggestions Wanted" box by the entrance to our Manhattan office, from where they will be taken out and ritually burned on the altar of our vanity once every full moon.